EDIT MAIN
Go Tigers!
---
Welcome to the Wayne Center Elementary. On this site, you will find resources and bits of news that you need to know in order to stay informed throughout the school year. We hope that you find it to be helpful as we strive to inspire, engage, and empower our students!
Please follow us on Twitter and Facebook so that you can keep posted on the latest events and photos.
Please view the Twitter feed on the lower portion of this page to view any delay or closing information.
THE FUTURE READY DISTRICT PLEDGE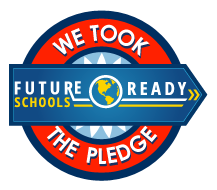 East Noble School Corporation has taken the Future Ready Pledge.
The Future Ready District Pledge, developed by the U.S. Department of Education in October 2014, is a commitment by district leaders to work with educators, families, and community members to make all schools in their districts Future Ready.